This post provides detailed instructions to install and use Streams for US app on FireStick, Fire TV Stick 4K, and Fire TV Cube.
With over 8000 Live TV channels and loads of on-demand movies and series, Streams for US instantly became one of my favorite streaming apps for FireStick. And, you get all of it for just $7 per month.
It is a dependable app that provides high-quality working streams all the time. The app works not just on FireStick, but also on all other Android-based devices including Mobiles, Tablets, Android TV Boxes, Android TV OS, etc. In fact, it also has a web-based service, which you can use in any popular browser.
Streams for US is an all-inclusive streaming solution that joins the ranks of The Players Klub IPTV and Sportz TV IPTV apps. It now also features on our list of Best Apps for FireStick.
Main Features of Streams for US
– Easy to use, fluid and user-friendly interface
– Multiple subscription plans
– Huge content library
– Simultaneous streaming on multiple devices (up to 2 or 4 depending upon your subscription plan)
– Multi-screen function
– After-sales support
– High-quality streaming (up to 1080p)
– Integrates with external media players
Attention FireStick Users: Read before you continue
Governments and ISPs across the world monitor their users' online activities. If found streaming copyrighted content on your Fire TV Stick, you could get into serious trouble. Currently, your IP is visible to everyone. I strongly recommend you to get a good FireStick VPN and hide your identity so that your movie viewing experience doesn't take a bad turn.
I use ExpressVPN which is the fastest and most secure VPN in the industry. It is very easy to install on any device including Amazon Fire TV Stick. Also, it comes with a 30-day money-back guarantee. If you don't like their service, you can always ask for a refund. ExpressVPN also has a special deal where you can get 3 months free and save 49% on annual plan.
Here are the reasons why you must use a VPN all the time.
Sign Up for the Streams for US Account
We need to register an account with the Streams for Us in order to buy the subscription and use the service. As I told you before, there is a free 3-hour trial period. I will show you how to get the trial period offer. You can add the paid subscription to your account later at any time you want to (instructions provided later in the guide).
Note: The trial period starts as soon as you register. So, it would be a good idea to register only when you are ready to explore Streams for US.
Here is how you sign up for the service and create a Stream for Us account:
1- Access the following link on your mobile or computer: streamsforus.net/cart.php?gid=1
2- Choose the 3 Hour Streaming Line – Free Trial
Or, you may also choose the USA Only version for FireStick
Note: FireStick and Android TV users do not need to choose the Mag Box subscriptions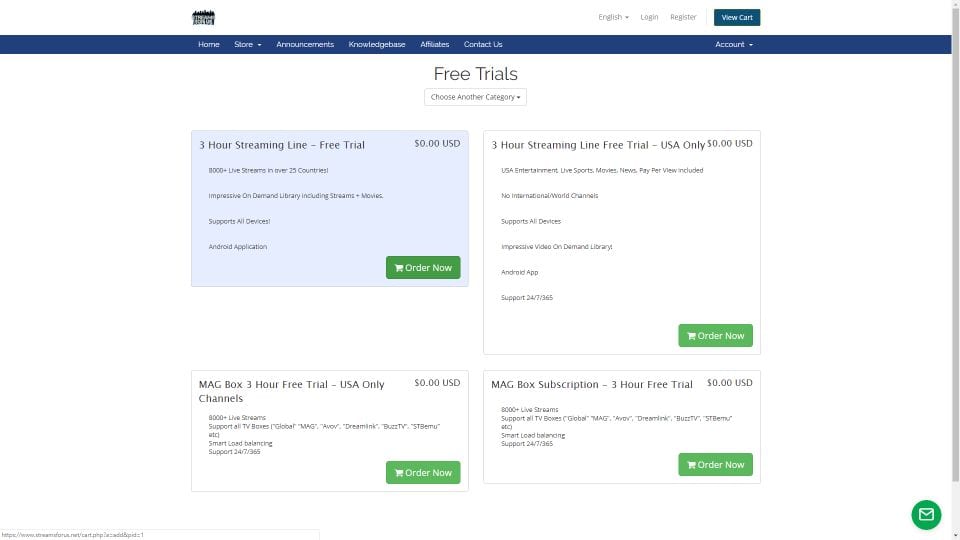 3- Fill in the form and provide the payment information (since you have chosen the free trial, you will not be charged anything at this time. Payment details are taken only for the verification purposes)
While filling this form, you will be required to provide the email address and create a password. You may also choose a system recommended password.
Note that this will NOT be your Streams for US app login password. It is for your web login or dashboard, which you can access from any mobile or computer browser. The App login password is sent to you in the email separately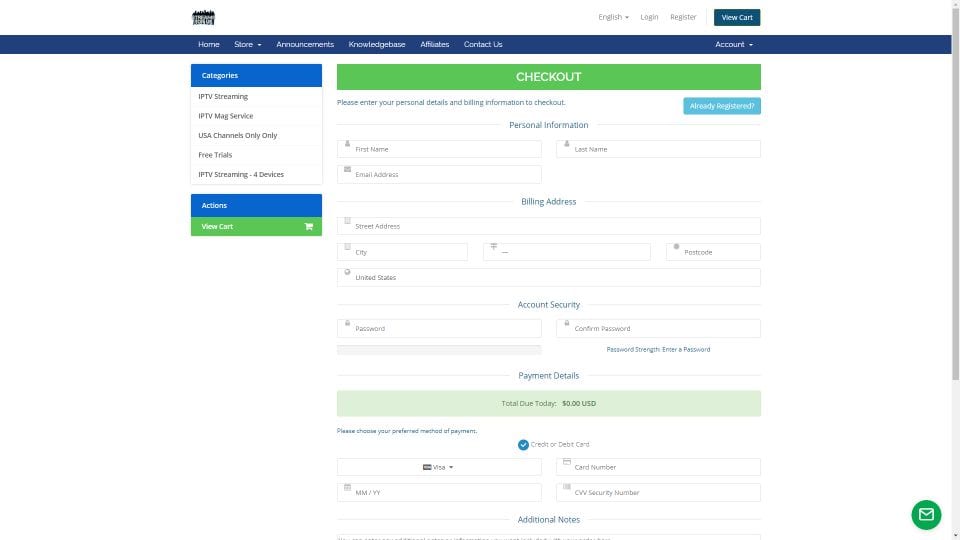 4- When the payment information is verified successfully, you are redirected to the following Order Confirmation page. You will find your Order Number here. The order number is also sent to you in your email
You may now click Continue to Client Area to access your Streams for Us online account.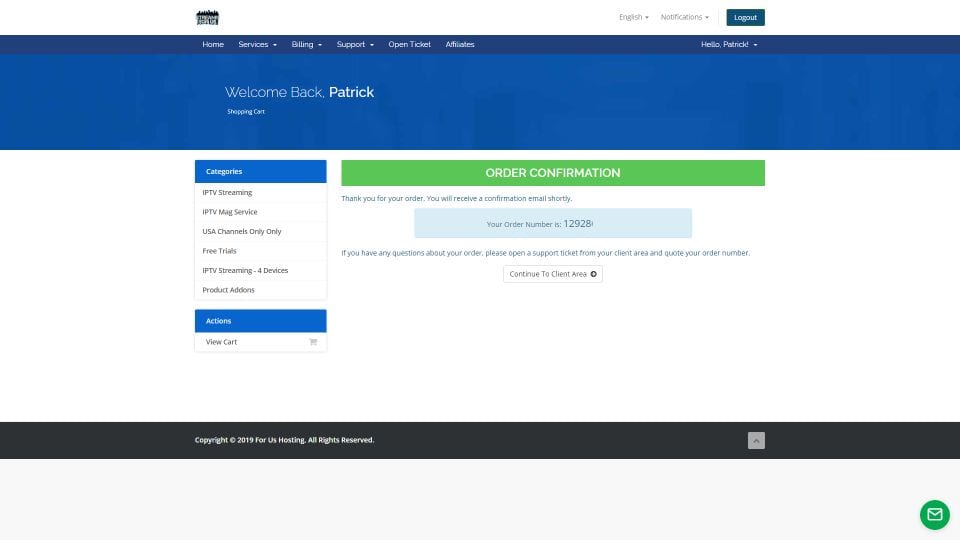 You have successfully registered an account and subscribed to the free 3-hour trial. You must have received a couple of emails. One of them contains your app login username and password. The app login credentials are numeric-only and contain 7 digits each.
You may now download the Streams for Us FireStick app and start using the services. Instructions are as follows.
Install Streams for US app on FireStick
The installation steps are divided into two parts as follows:
1- Allow Apps from Unknown Sources
2- Download and Install Streams for US Firestick App
Part 1: Allow Apps from Unknown Sources
Streams for US is a third-party Android application not found in the Amazon Store. All such apps are 'Apps from Unknown Sources.' We need to allow the installation of such apps. Here is how we do that:
1- Go to the home window of FireStick if you are not there already. Navigate to the top. Select the Settings option in the menu bar
2- Now open the option My Fire TV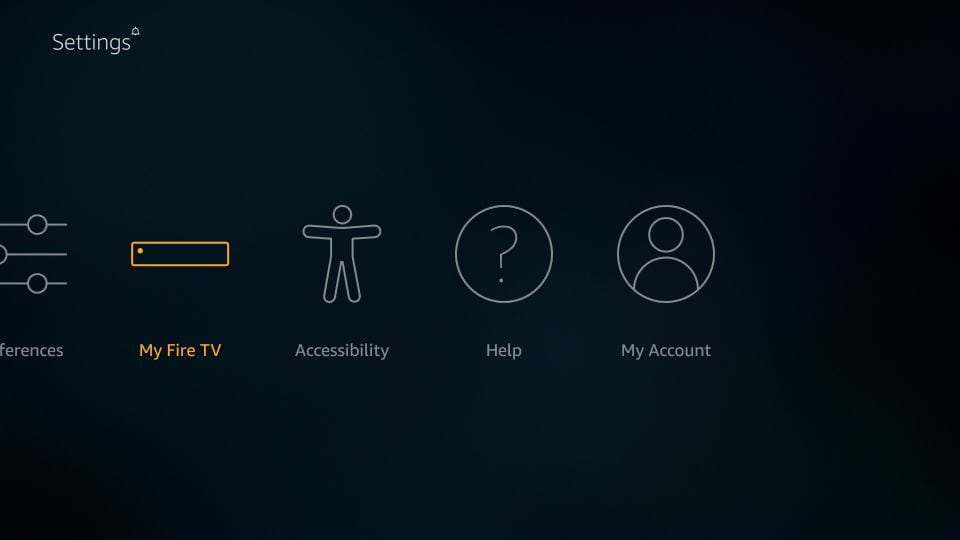 3- Click Developer Options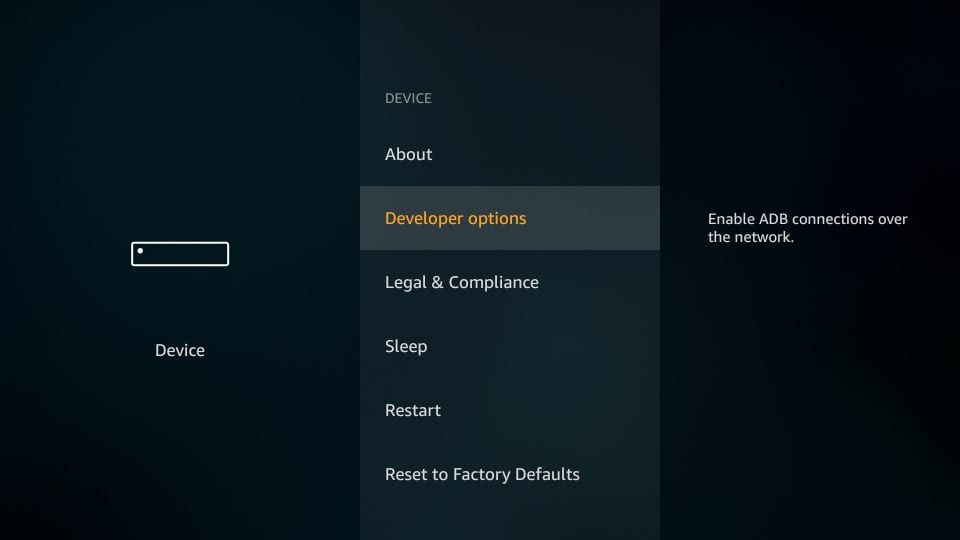 4- The option Apps from Unknown Sources must be OFF if you haven't installed any third-party apps before. Go ahead and switch it ON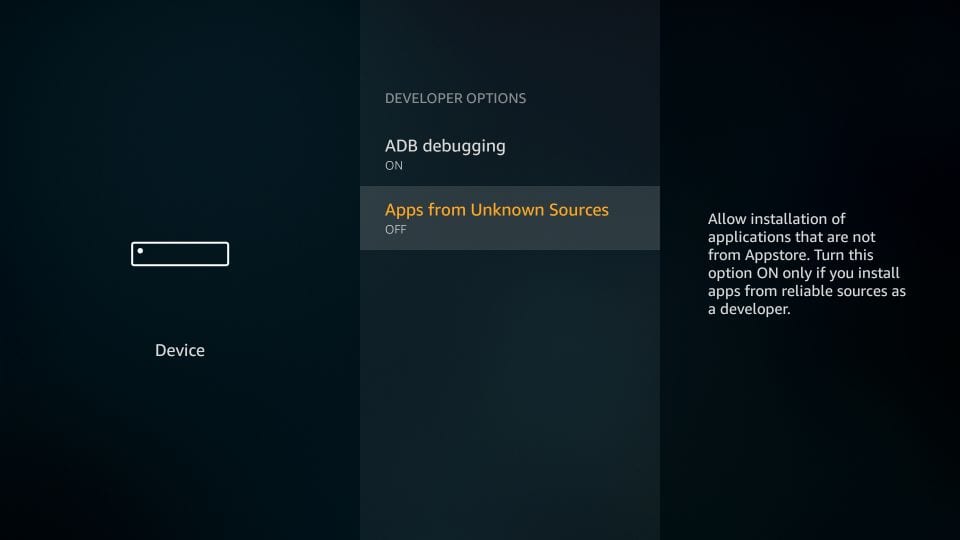 5- Streams for US is a safe app. Don't worry about this warning. Go ahead and click Turn on to continue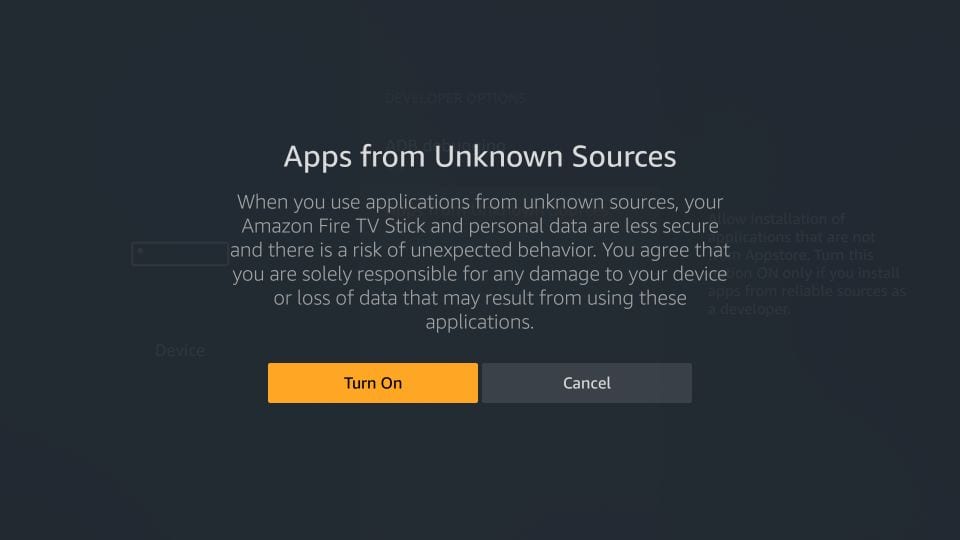 This lets you install any third-party app on FireStick including Streams for US.
Part 2: Installation Steps
Now we install the app. Here is what you need to do:
1- Install the Downloader app
Browser downloads are not allowed on FireStick. Therefore, we need the Downloader app. It is an excellent sideloading tool.
Go to the FireStick home window and choose the search option in the upper-left corner (the magnifying glass icon)
Look up for Downloader and install it
Note: You may also visit our guide for detailed instructions on how to sideload apps on FireStick
2- Open the Downloader app
Make sure the Home tab is selected in the left
Click the URL field in the right section of the window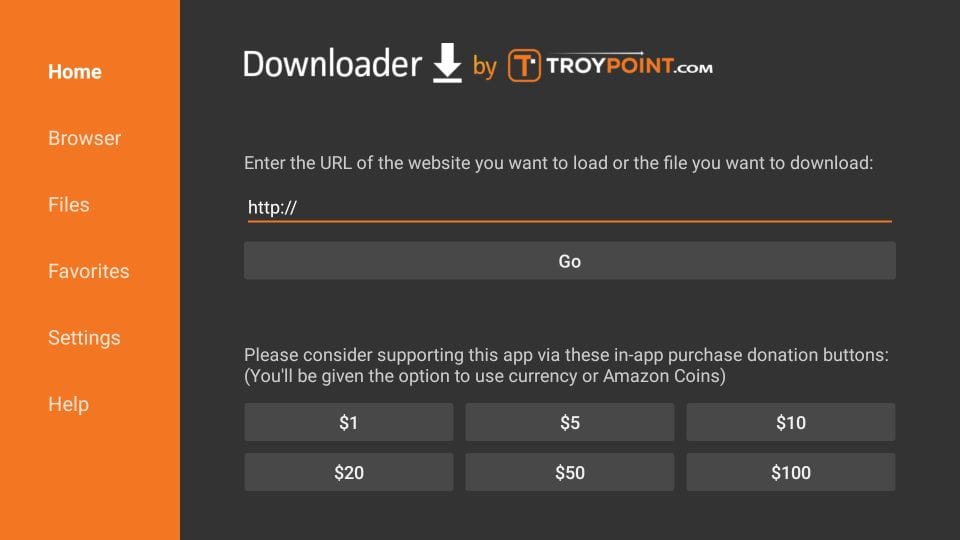 3- Go ahead and type the following path: s4us.loveyour.tv
Click GO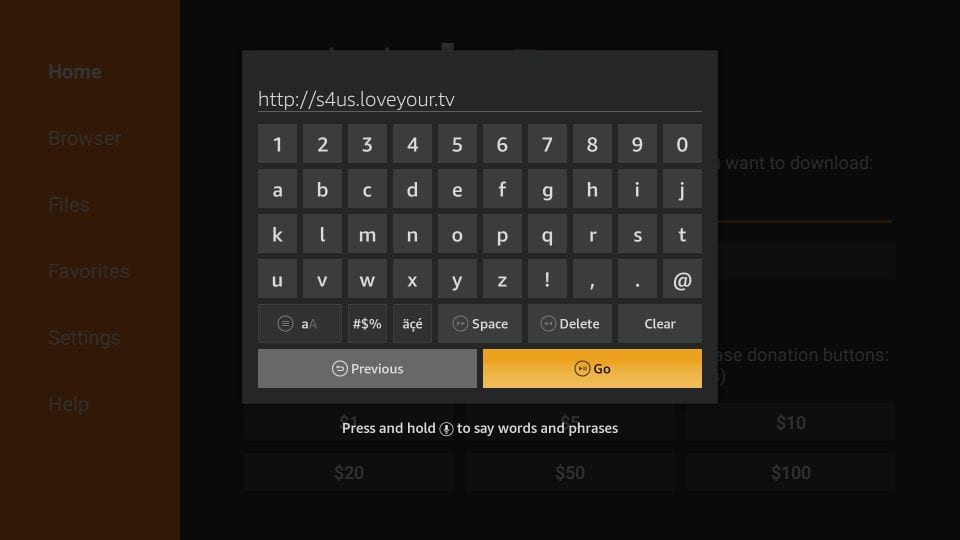 4- Wait while the Streams for US APK is downloaded on FireStick. It may take a couple of minutes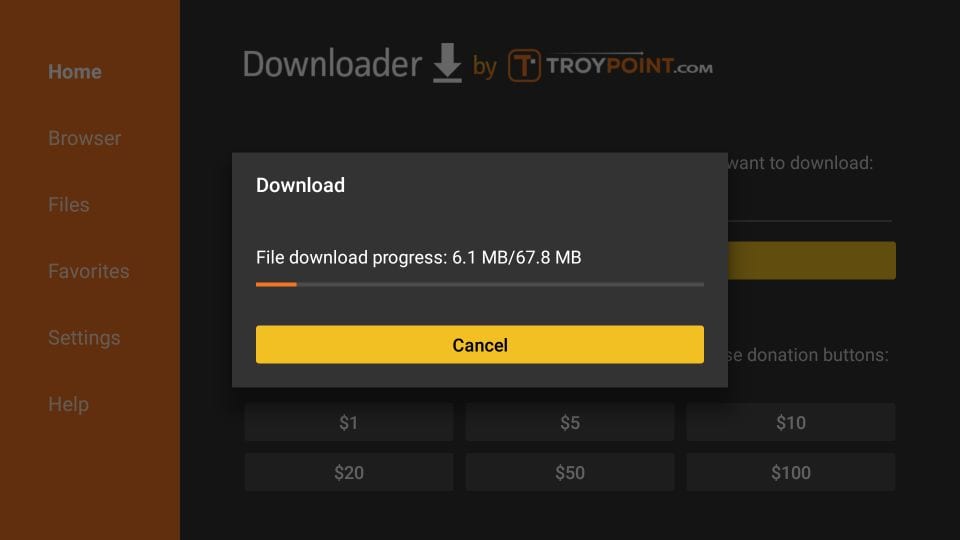 5- The installation is initiated as soon as the APK is downloaded. Go ahead and click Install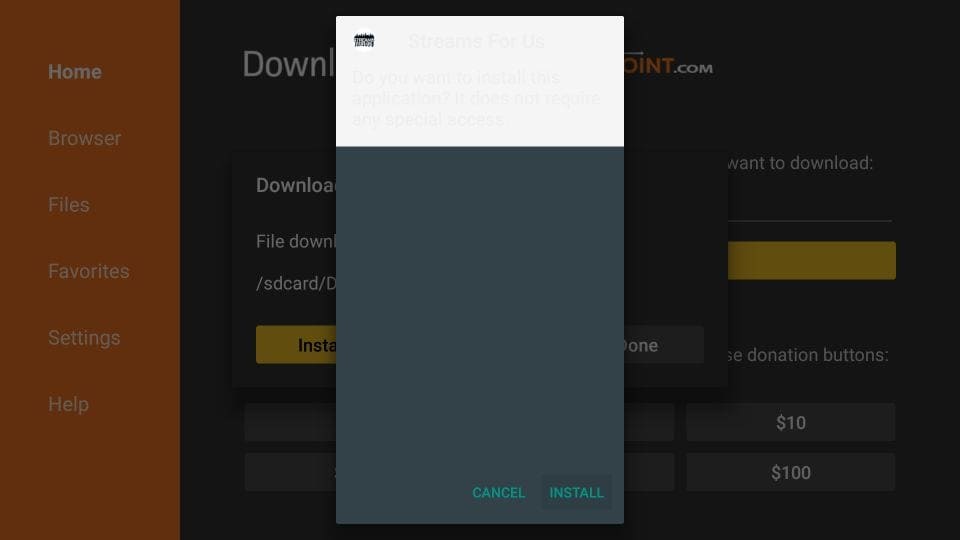 6- Wait while your FireStick installs the Streams for US app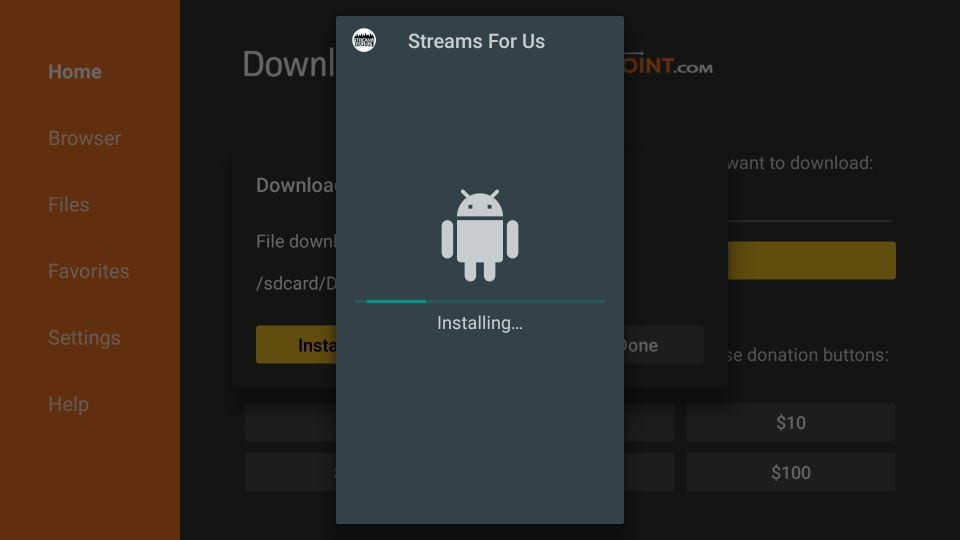 7- When the App Installed notification is displayed, click DONE
We are not clicking OPEN yet. We will explore the app later. For now, let's take care of another thing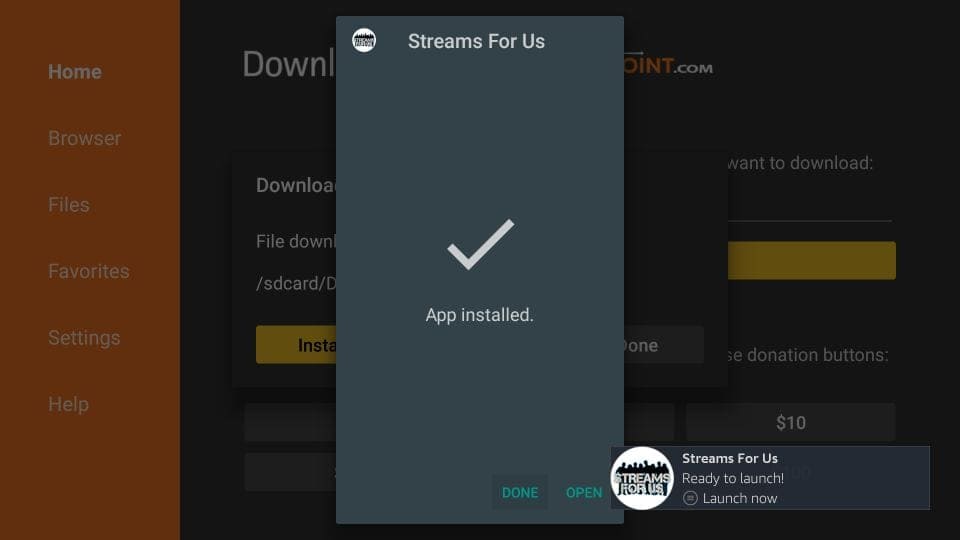 8- You must now see the Downloader window again with this active prompt. Click Delete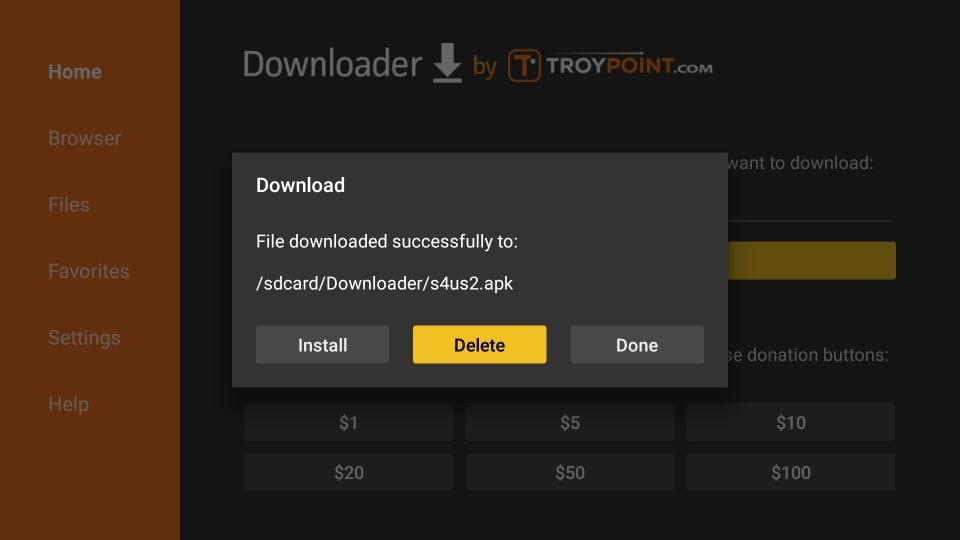 9- Click Delete again to confirm your intent
By doing this, you have removed the Streams for US APK file from the limited FireStick storage and spared yourself some space. This file is of no use as you have already installed the app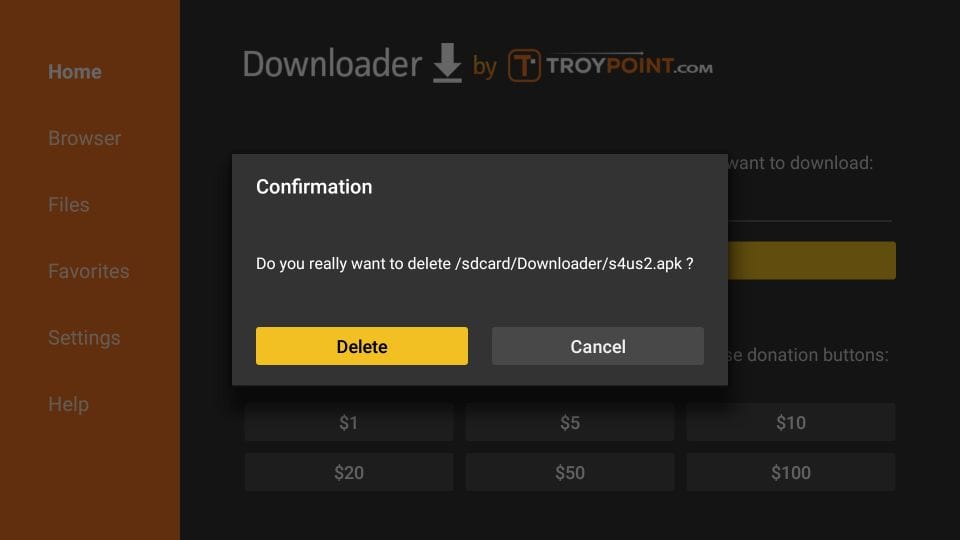 Great! You have successfully installed the Streams of US on your FireStick device.
Your FireStick / Fire TV is now all ready to stream your favorite content. However, before you start, I would like to warn you that everything you stream online is visible to your ISP and Government. This means, streaming free movies, TV shows, Sports might get you into legal trouble.
Thankfully, there is a foolproof way to keep all your streaming activities hidden from your ISP and the Government. All you need is a good VPN for Fire Stick. A VPN will mask your original IP which is and will help you bypass Online Surveillance, ISP throttling, and content geo-restrictions.
I personally use and recommend ExpressVPN, which is the fastest and most secure VPN. It is compatible with all kind of streaming apps and is very easy-to-install on Fire TV / Stick.
We do not encourage the violation of the copyright laws. But, what if you end up streaming content from an illegitimate source unintentionally? It is not always easy to tell the difference between a legit and illegal source.
So, before you start streaming on your Fire Stick / Fire TV, let's see how to use ExpressVPN to keep your streaming activities hidden from prying eyes.
Step 1: Subscribe to ExpressVPN HERE. It comes with a 30-day money-back guarantee. Meaning, you can use it freely for the first 30-days and if you are not satisfied with the performance (which is highly unlikely), you can ask for the full refund.
Step 2: Power ON your Fire TV / Stick and go to the "Search" option on the extreme left. Now type "Expressvpn" (without quotes) in the search bar and select ExpressVPN when it shows up in the search results
Step 3: Click "Download" to install the ExpressVPN app for Fire TV / Stick.
Step 4: Open the app and enter your login credentials which you created while buying the ExpressVPN subscription. Click "Sign in"
Step 5: Click the Power icon to connect to a VPN server. That's all. Your connection is now secure with the fastest and best VPN for FireStick.
You can also read more detailed info on using ExpressVPN with Fire TV / Stick.
How to Use Streams for US on FireStick
You may not find Streams for US on the home window of FireStick. It can be accessed from the section Your Apps & Channels. Let me show you how:
– Navigate to the row titled Your Apps & Channels on the FireStick home screen
Go to the extreme left or extreme right and click See All
-OR-
– Long press the Home button on the remote. Click Apps on the popup screen
When you are in Your Apps & Channels, scroll down and you will find Streams for US at the bottom. Click to open it: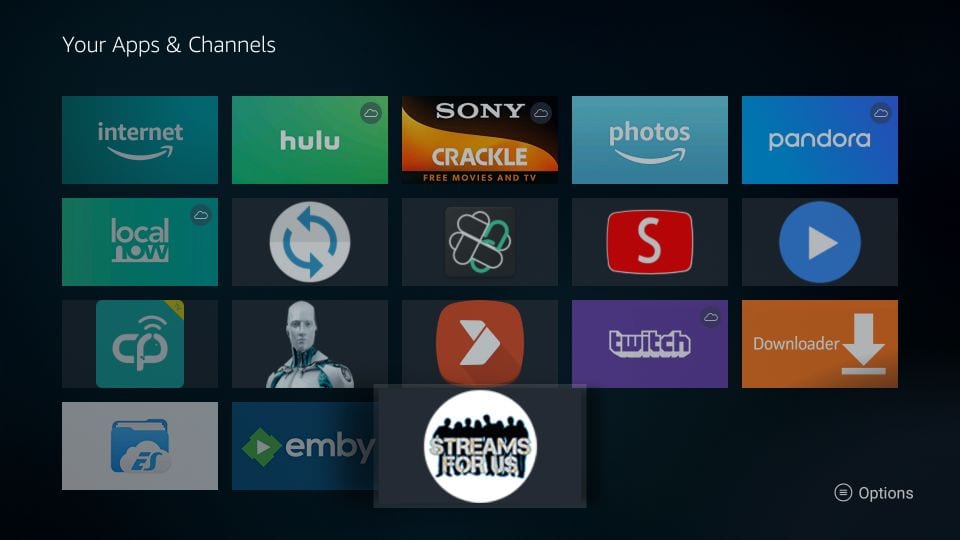 If you would rather like the app to be placed on the FireStick home window, press the menu button on the remote (it is the one with 3 horizontal lines). Click Move on the pop-up menu in the bottom-right corner of the display. Simply drag and drop the app in the first row (even second row will do).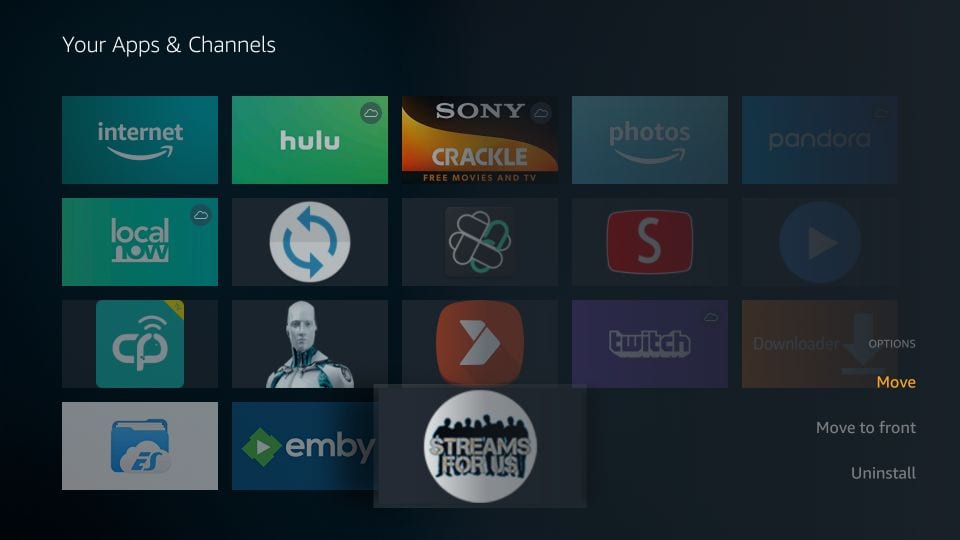 Now that you have learned ways to access Streams for US FireStick app, let us get started with it.
This is the login window. It will appear every time you access the app unless you click Remember me before logging in.
– Log in with the Username and Password you received in your email (not the one you created while signing up for the service)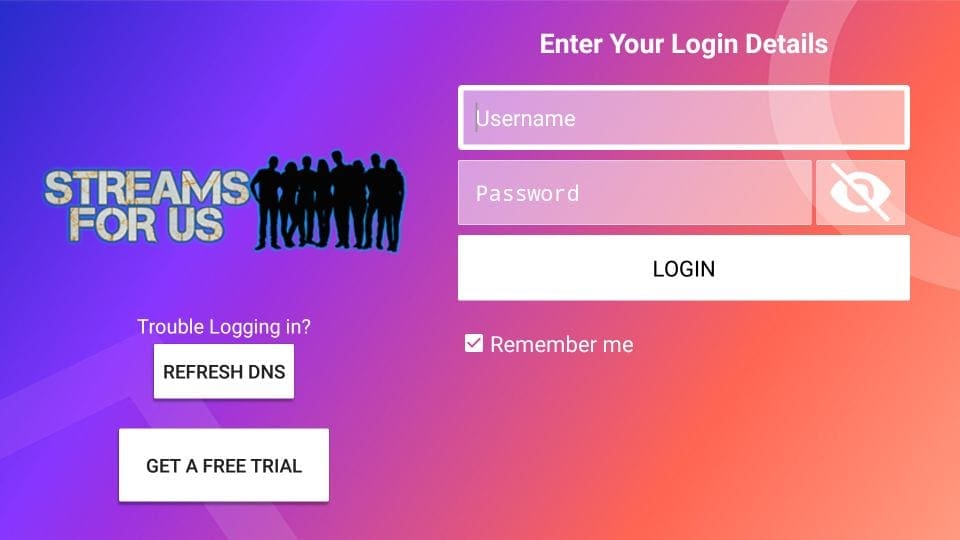 – Wait while the app gets things ready. You will see this only during the first run after logging in

– Here is the main window of the Streams for US app on FireStick. Now, all you need to do is click live TV, Movies or Series to start exploring your streaming options. You may also dig into the 'Catch Up' section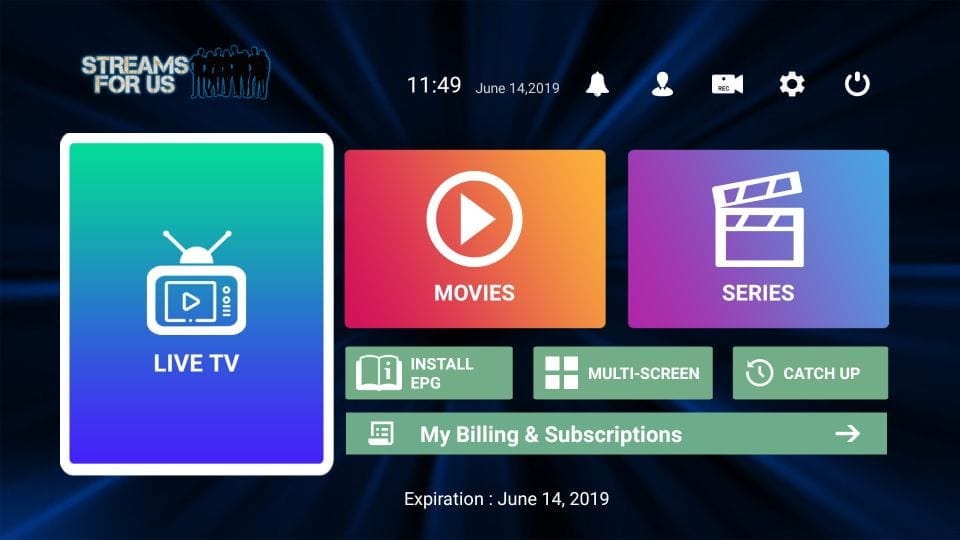 – You can install and access EPG right from the app. Click INSTALL EPG button
Note: EPG can also be accessed online. The email with the Subscription Details also contains the EPG and M3U links
– By clicking the My Billing & Subscriptions button on the main window of the app, you can view your account details and also buy/renew the subscription. This section also lets you view your invoices and service tickets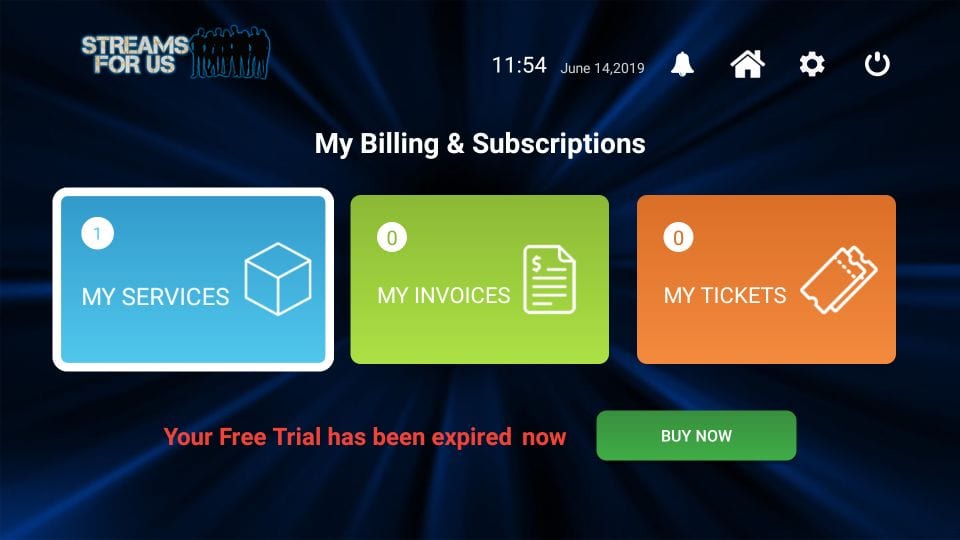 We will talk about the Multi-Screen feature in the next section.
How to use Multi-Screen feature on Streams for US on FireStick
The Multi-Screen feature is becoming prominent among the streaming apps. The latest version of Streams of US also includes this feature.
As the name suggests, Multi-Screen lets you stream multiple Live TV feeds on one screen. You can watch up to 4 feeds simultaneously. This feature is currently unavailable for on-demand content (movies and series).
You may click the Multi-Screen button on the main window of the Streams for US app to access this service. This is the Multi-Screen window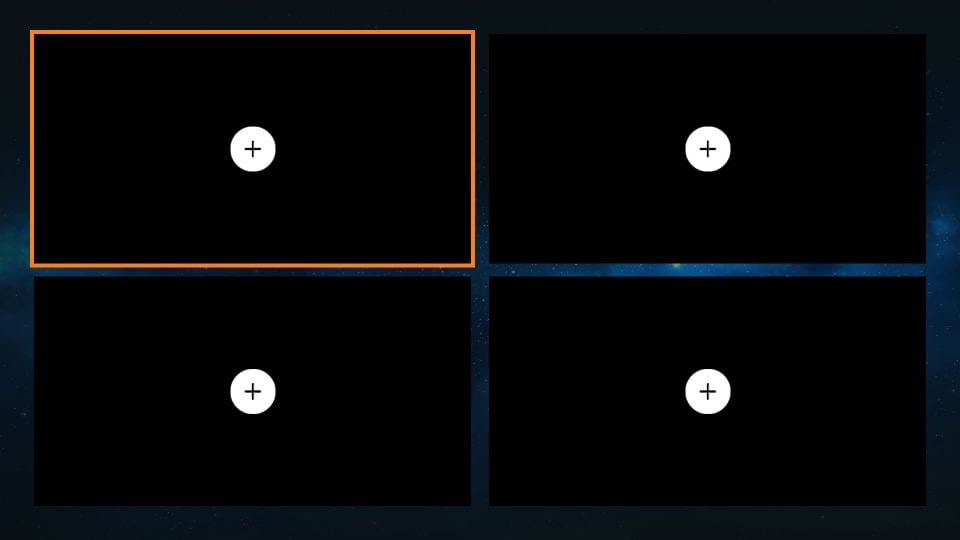 Select a screen and click it to add the feed. The app will present you with the list of the available Live TV channels to choose from
Here are some important points to note about Multi-Screen utility:
– You can have up to 4 live feeds
– You can only have as many streams as the number of simultaneous streams your subscription plan allows. For instance, if your plan allows up to 2 streams, you cannot have more than 2 feeds on the Multi-Screen window. Also, if you are using 2 streams, you cannot stream using the same subscription on any other device
– You must have a decent internet speed. Each stream will consume its own share of bandwidth. For example, if one stream uses 5 Mbps, 4 streams simultaneous streams will require 20 Mbps bandwidth
How to Buy a Streams for US Paid Subscription Plan
You can buy the plan directly from the Streams for US app. From the main window of the app go to My Billings & Subscriptions > Buy Now. Choose a plan and follow the onscreen instructions to complete the transaction.
However, I do not recommend this method. I prefer online purchase.
It is not easy to browse the plans on your app. They are displayed one at a time. Furthermore, the app only features 2-Device plans. If you want a 4-Device plan, you will need to buy it online.
Here are the online links:
2-Device Plans: streamsforus.net/cart.php?gid=11
4-Device Plans: streamsforus.net/cart.php?gid=16
USA Channels Only Plans: streamsforus.net/cart.php?gid=12
You can either choose a regular plan (contains Adult content) or a No Adult plan.
Note: While buying the paid plan, you may either log in with your existing account or create an entirely new Stream for US online account. Creating a new account would mean new login credentials will be assigned to you for Stream for US app login.
The following 4 options duration wise are available:
– 12 Months
– 6 Months
– 3 Months
– 1 Month
The reason why I have highlighted the 1 Month duration is that this is the plan I recommend. Streams for Us is a quality streaming service. However, as I have seen in the past, such services get discontinued sometimes and you cannot claim any refund. Therefore, it is best to go on a month-to-month basis.
How to view your Stream for Us Service Login Credentials (Username and Password)
Please note that there are two types of login credentials associated with Streams for Us:
– Online Account Login: Created during the registration process. CANNOT be used to log in to the app for streaming purposes
– Stream for US App Login: Used to sign in to the app on FireStick and other devices. SENT in the EMAIL after registration. It CANNOT be changed. It CAN be accessed and viewed
Recover lost/forgotten online account password
– Go to streamsforus.net/clientarea.php
– Click Forgot Password?
– Enter your registered email address and click Submit
– Open the password reset email from Streams for US and click the password reset link in it
– Create a new password
Recover Streams for US app service password
If you are looking for the password to log in to the Streams for Us to start streaming, follow these steps:
– Log in to your online account at streamsforus.net/clientarea.php
– Click the Services tab next to 'Your Info' block or click Services > My Services in the menu bar on the top
– Click your plan under Product/Service
– Scroll down a bit and click the Subscription Details button
– Your Username is displayed in the My IPTV Subscription Details section. Click Show button to reveal your password
Alternate Method to Install Streams for Us on FireStick (ES File Explorer)
Note: If you have already installed Streams for US app on FireStick using the Downloader app method I have provided above, you may ignore this section. This method is for those who are unable to install the Downloader app or prefer using ES File Explorer
Follow the steps below:
1- From the FireStick home window go to the top-left corner to select the search option (the magnifying glass icon)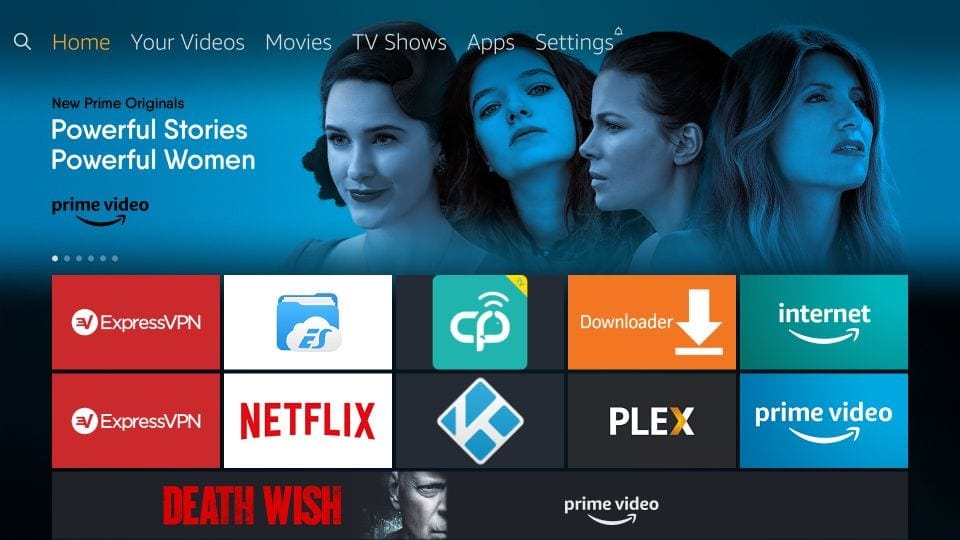 2- Type the name ES File Explorer and click it in the search results. Follow the online directions to install ES File Explorer on FireStick
3- Open ES File Explorer. From the main screen, in the right section, open the Downloader icon. Alternately, go to the left section and open Tools > Download Manager
4- Click +New on the bottom in the right section of the next window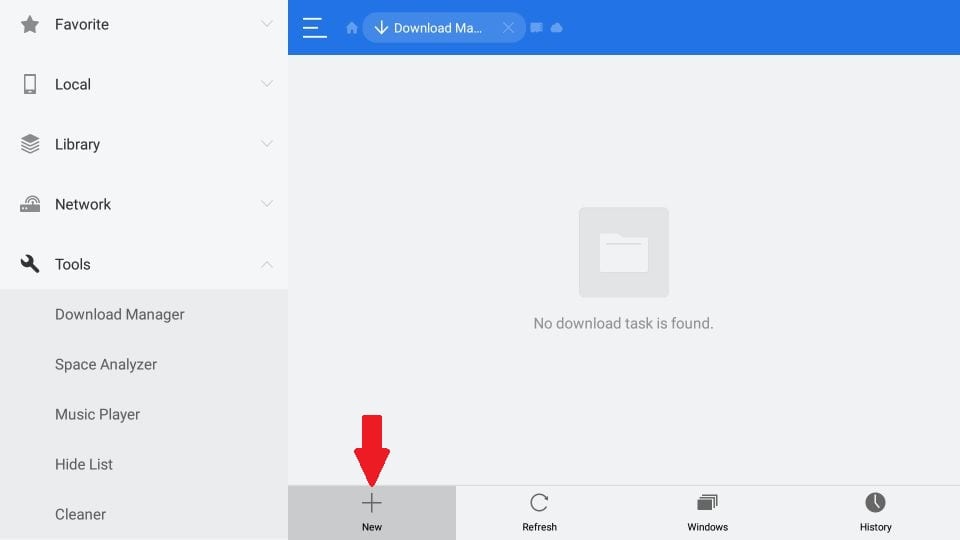 5- Enter the link s4us.loveyour.tv in the Path field and any name of your choice in the Name field (or just leave it blank)
Click Download Now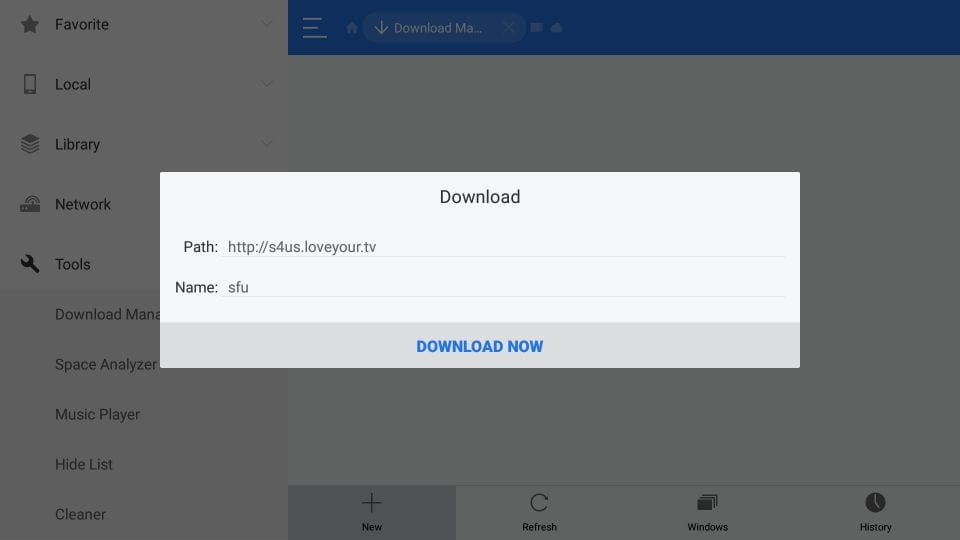 6- Wait for the Streams for US APK to download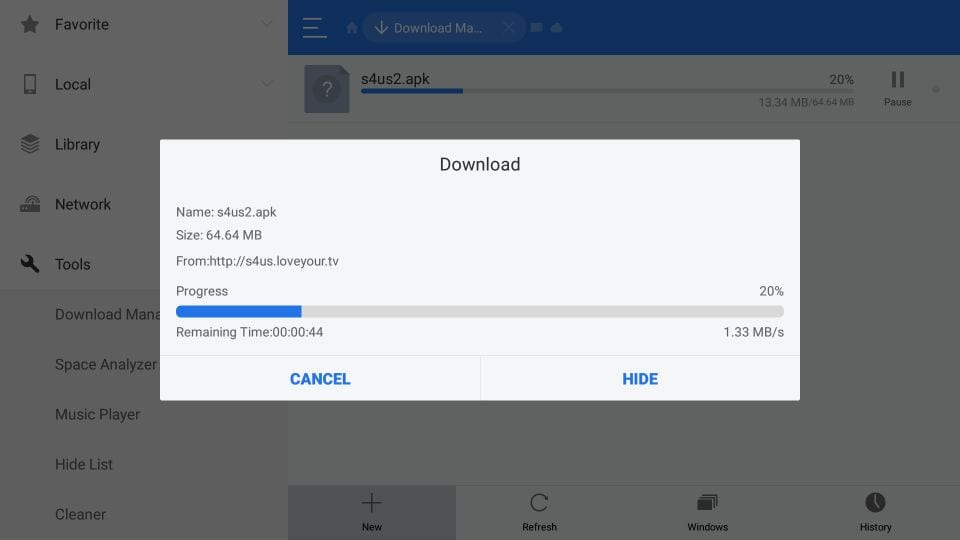 7- Click Open file when prompted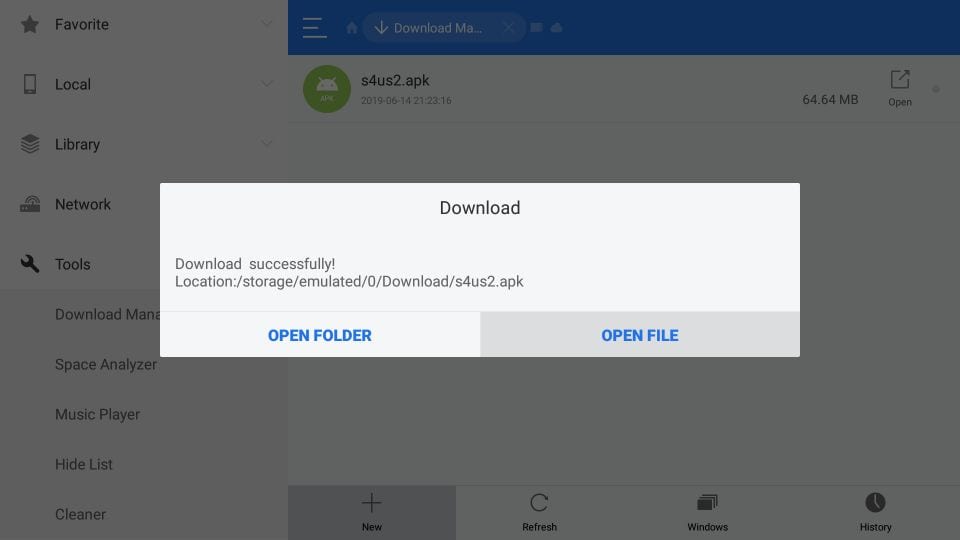 8- Click Install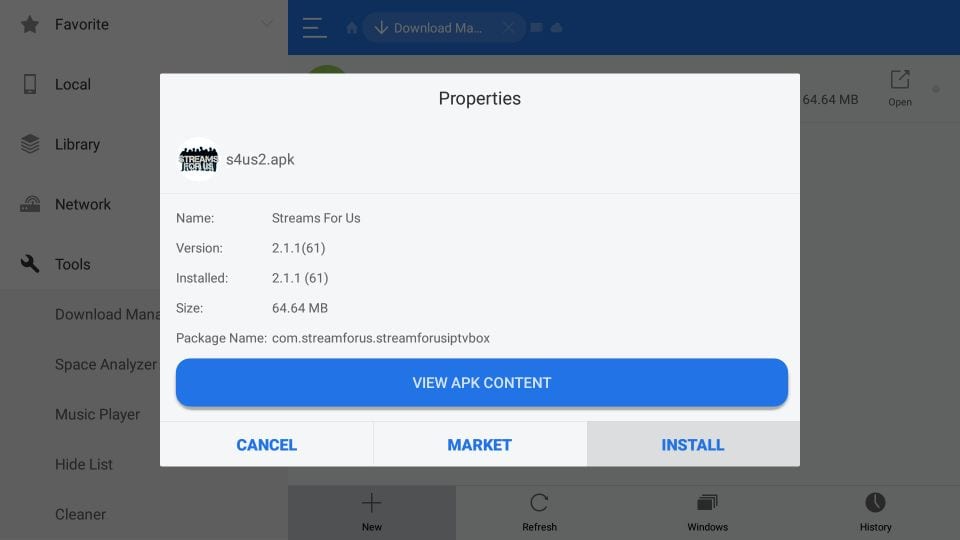 9- Click Install again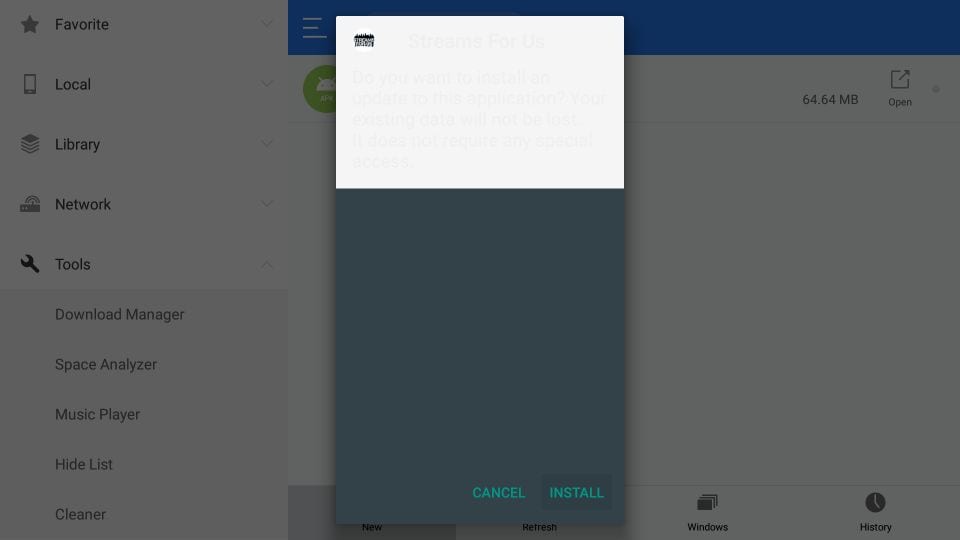 10- Wait for the app to install. Click Open run Streams for US app on FireStick
Verdict
Streams for US is an excellent streaming option to watch Live TV, Movies, and Series all at one place. For $7 a month, you get access to more than 8000 Live TV channels and hundreds of movies and shows. This app is any day better than the free IPTV streaming apps that often prove to be unreliable. Streams for US offers Full HD streaming for most Live TV channels and on-demand videos. Though, you may find some 720p and SD streams as well. If you are looking for an inexpensive and all-inclusive streaming app, Streams for US is what you must try.
Liked the Guide? Don't Forget to Share with your Family & Friends
Legal Disclaimer – Husham.com.com does not verify the legality or security of any add-ons, apps or services mentioned on this site. Also, we do not promote, host or link to copyright-protected streams. We highly discourage piracy and strictly advise our readers to avoid it at all costs. Any mention of free streaming on our site is purely meant for copyright-free content that is available in the Public domain. Read our full disclaimer.
Please follow and like us:
Related
Written by David Minister