Best Mini PC Azulle mini PC review – Byte3 fanless Windows 10 computer
Anyone looking for a Windows 10 fanless mini desktop PC, then look no further, Introducing the new Azulle Byte3. I tested the Byte3 out over few weeks, here are some unboxing photos and more details on the Byte3.
The Azulle Byte3 desktop mini PC is powered by a Quad Core Intel Apollo Lake N3450 Processor supported by either 4GB or 8 GB of RAM together with 32 GB of eMMC storage. The system is also equipped with a microSD card slot that can accommodate cards up to 256 GB.
Azulle Byte3 is designed to keep up with today's ever-evolving mini-PC user and the multi-tasker that needs to get it all done. Azulle powers the Byte3 with a 64-bit Quad-Core Intel Apollo Lake processor making the Byte3 not only lighter but more powerful. Use the HDMI or VGA port to connect to a TV or monitor.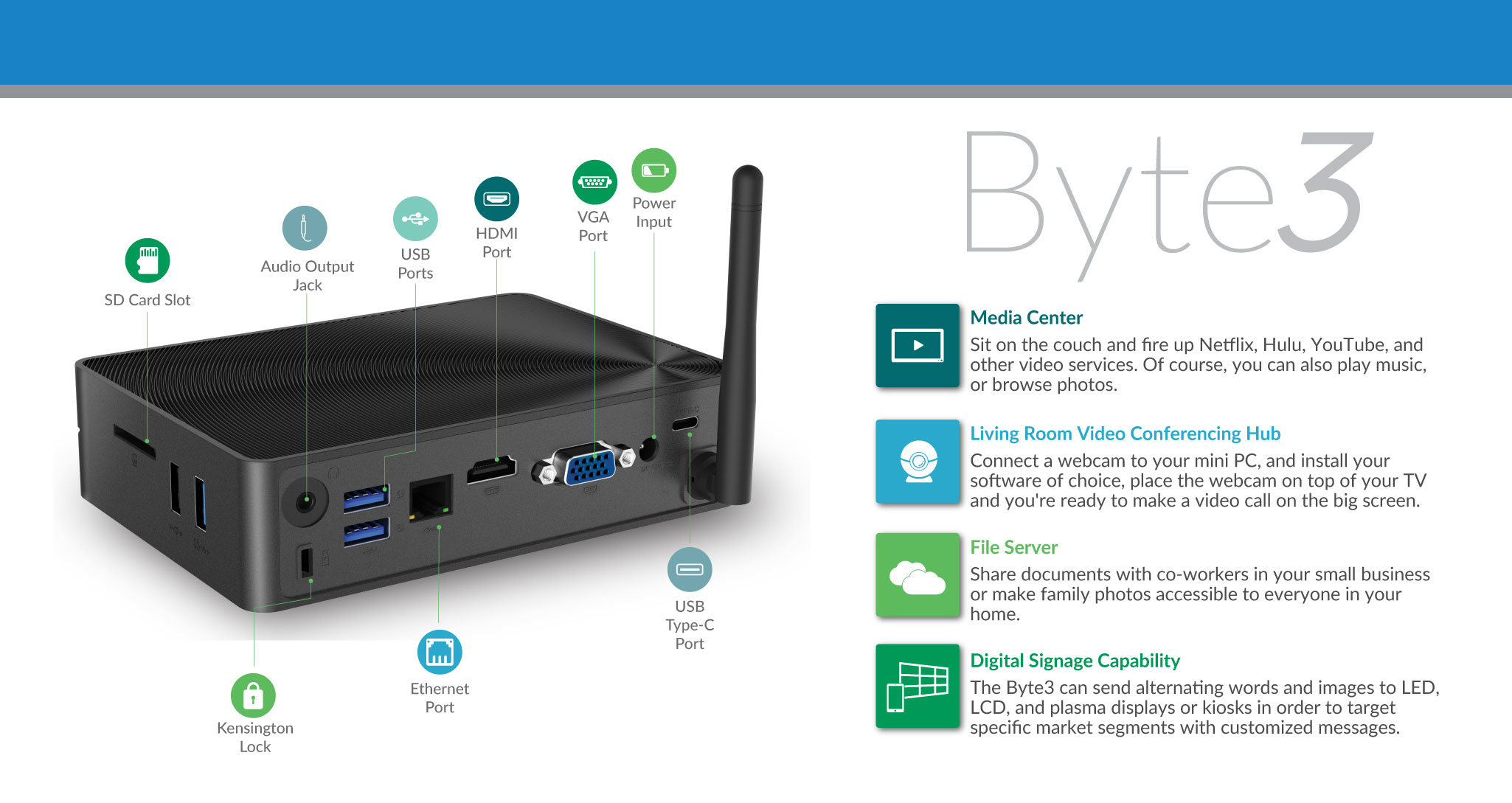 The Byte3 comes with a Quad Core Intel Apollo Lake N3450 Processor equipped with a 4GB of RAM, 32 GB of eMMC storage (expandable with adding internal hard drive)
Windows 10 Pro 3.
Micro SD card slot which accommodates up to 256 GB.
M.2 Slot- 2280 SATA allows for theoretical speeds as high as 6 GB/s.
Byte3 also supports 2.5 SSD drives
Byte3 has 4 USB ports 2 (3.0), 1 (2.0) and 1 type C.
Type C USB ports feature a new, smaller connector shape that is reversible, and therefore easier to plug in. It also offers up to double the transfer speed of USB 3 at 10 Gbps. While connectors are not backwards compatible, the standards are, so adapters can be used with older devices. Connect it to your monitor and stream videos and other content.
Dual monitor capability with a VGA and HDMI port.
The Byte3 comes with Dual-Band Wi-Fi, Bluetooth 4.0 and an IR receiver. 
GPU: Intel HD Graphics 500
4K capabilities at 60 FPS
Purchase link – www.husham.com/azullebyte3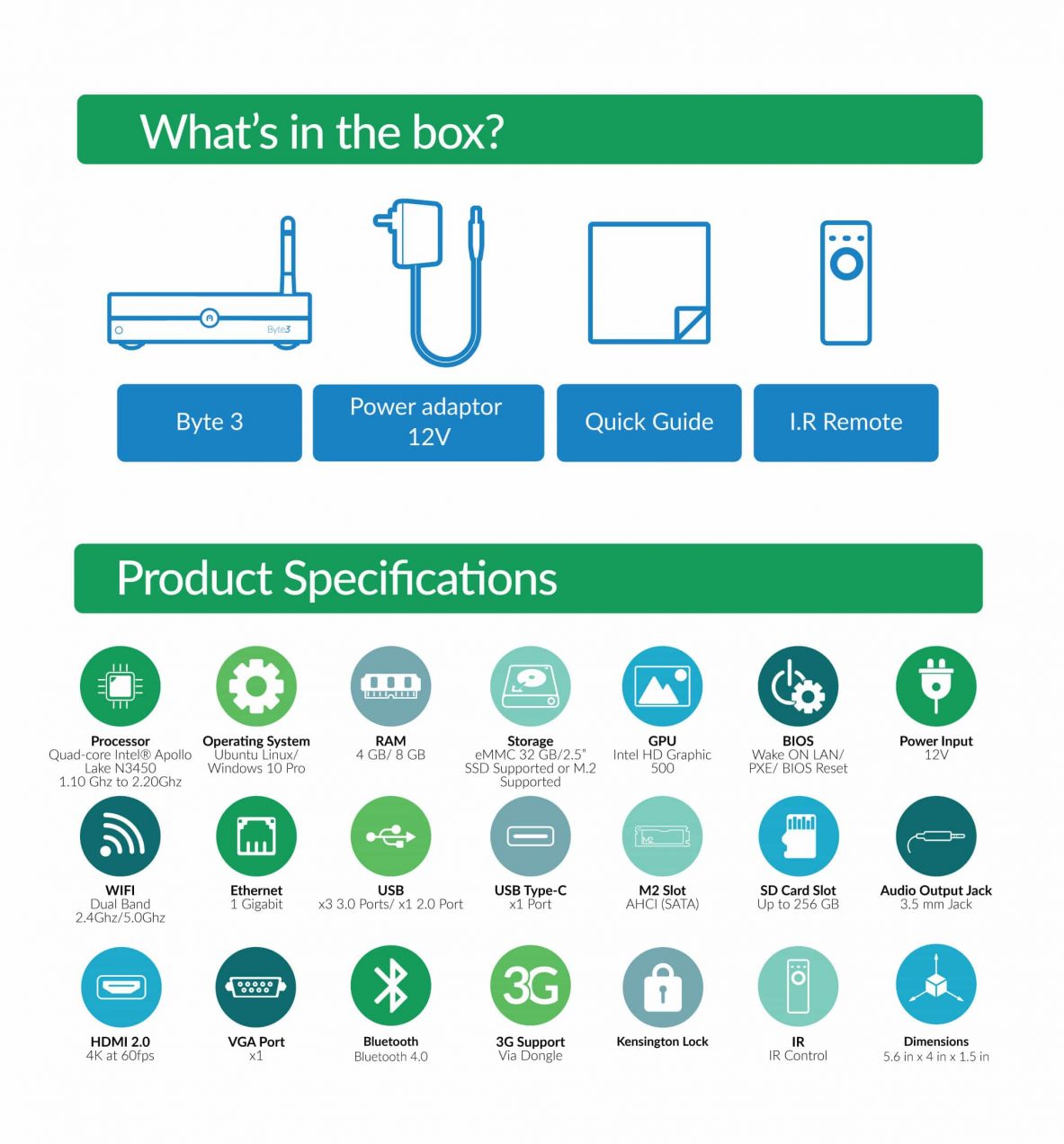 With 4K at 60 FPS, you can stream Netflix, YouTube and Amazon Prime; or use Microsoft Office to complete any business, school, or leisure-time task. The Byte3 is the feather-weight champion of fast, functional, user-friendly and affordable technology.
The Byte3 comes loaded with Windows 10 Pro operating system.
Purchase link – www.husham.com/azullebyte3
you can install KODI, Word, Excel, Office, Google Docs, Games and more applications
This can literally be your home pc for your normal day to day work.