iPhone 7 Gold plated $3000 Donald Trump
Gold Plated Donald Trump iPhone 7 Costs Over $3000
Check out this gold-plated iPhone 7 that features the face of United States President-Elect Donald Trump.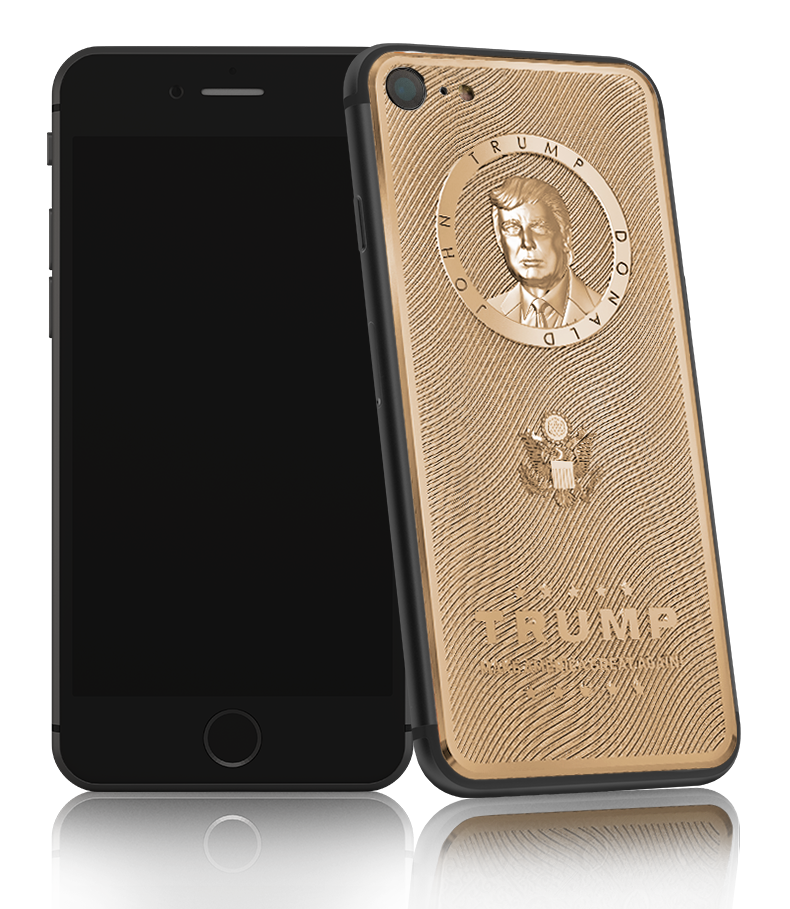 The custom iPhone designed by CAVIAR starts at 197,000 rubles or about $3100 USD. It has Trump's face, name, and campaign slogan ("Make American Great Again") on the back in gold.
Of course, the company said that the phone is meant for Supremo Great people
Smartphone design is a composition coated with gold and embodied in the form of a volume of engravings depicting the portrait of Trump and the emblem of the United States, as well as the slogan with which Trump won: «Make America Great Again» ( «Let's make America great again").
According to Business Insider, the Trump iPhone is basically an iPhone 7 that's been outfitted with a gold plate on its back. As part of the luxury smartphone's design, Trump's portrait is etched on the upper half of the  phone, and the president-elect's full name, "Donald John Trump," encircles his portrait.
PhoneArena claims the Trump iPhone could do well among oil oligarchs, adding that the expensive device comes from the same company that makes the gold-plated Putin iPhones. However, Caviar may have a different goal in launching the Trump Phone.  Lenta said, "We will do everything possible to bring the phone to Mr. Trump." Thus, it's clear that the company did not only make the luxury version of the iPhone 7 for Trump's elite supporters, but also for the businessman-turned-president himself.
For the company, the special edition iPhones express patriotism. It also has its reasons for choosing the world leaders to be featured in its Supremo collection. Speaking of why it chose Putin to be the face of eight of its luxury iPhones, Caviar said: "President Vladimir Putin has become a symbol of the new generation, strong-willed and a decisive leader. Caviar jewelers chose him as among the most important figures of our time."
Other recommended phones
Tell me what you think/feeling on this
Husham Memar
Accessibility -

/10

Usability -

/10

HD Quality streaming -

/10

Application support -

/10